See that cute girl in the picture above? She's one cool chick. Let me introduce you to 14 year old Julia Bluhm. This 8th grader enjoys hanging out with friends, dancing in the ballet studio, and...fighting the sexualization of girls in the media. She belongs to this super cool organization called the SPARK Summit. SPARK stands for 'sexualization protest - action, resistance, knowledge'. Julia and the other girls at SPARK work to spread positive messages to girls and combat the damaging influence of the media through a grassroots approach.


If you've flipped through a magazine you've probably noticed that every girl looks perfect - always. Never a blemish. Never a hair out of place. The sometimes scary-skinny girls on those glossy pages always seem to have gleaming white teeth and glowing (poreless) skin. Flawless. They seem supernatural...and for good reason. Those images are not natural. Nobody looks like that. Of course we all know this. Right? We all know that the media industry shows us images only after doctoring them up through intense sessions of Photoshop. They airbrush away pounds off already thin girls. They digitally enhance cleavage. Soften skin. Brighten eyes. Erase wrinkles. Lift booties. Flatten stomachs and on and on and on. We know this but still - it's hard not to feel the pressure of that illusion. Just so you can see what I mean, take a look at this picture of the beautiful Cate Blanchett.
Gorgeous right? But it's not real. This is the lie they sell us. This is what we compare ourselves to. A mag in the U.K. Intelligent Life recently featured an untouched up photo of Cate on their cover. Take that dreamy photo from above and compare it to this one.
What do you see? The second picture is beautiful but it is different, right? This photo shows the truth. It's relatable. There are imperfections about this woman. And to me - that makes her even more beautiful. The editor of the publication said, "'She looks like what she is — a woman of 42, spending her days in an office, her evenings on stage and the rest of her time looking after three young children". She is more than just a pretty face; the woman in this picture is experienced, hardworking, talented, ambitious, and a nurturing mother. That is a beautiful woman.


But what does all of this have to do with our friend Julia? Well, let me tell you. Last spring Julia decided to do something about the destructive nature of magazines. She started a petition specifically to Seventeen Magazine titled 'Give Girls Images of Real Girls!'


In the petition, Julia explained, "To girls today, the word 'pretty' means skinny and blemish-free. Why is that, when so few girls actually fit into such a narrow category? It's because the media tells us that 'pretty' girls are impossibly thin with perfect skin. Here's what lots of girls don't know. Those 'pretty women' that we see in magazines are fake. They're often Photoshopped, air-brushed, edited to look thinner, and to appear like they have perfect skin...Girls want to be accepted, appreciated, and liked. And when they don't fit the criteria, some girls try to 'fix' themselves. This can lead to eating disorders, dieting, depression, and low self esteem."


The petition was eventually signed by over 86,000 people and hand delivered to the editor of Seventeen Magazine. Julia and her friends at SPARK stood outside with signs stating their cause. They made sure that their voices were heard, their cause made known. These girls wanted change.



In the August issue, Seventeen Magazine published a "Body Peace Treaty" vowing to use only healthy models that represent 'real girls'. They said they will not use Photoshop to change the shape of a girl's face or body but will still use it to retouch photos to fix minor things like blemishes, hair, teeth, etc. Julia should be so proud of the awareness she has brought to this topic. She should be proud of speaking up and making a difference. I think it's amazing that she became passionate about an issue and then became actively involved in the cause. I can only imagine the impact for good she'll have on the world as she stays committed to bringing about positive change.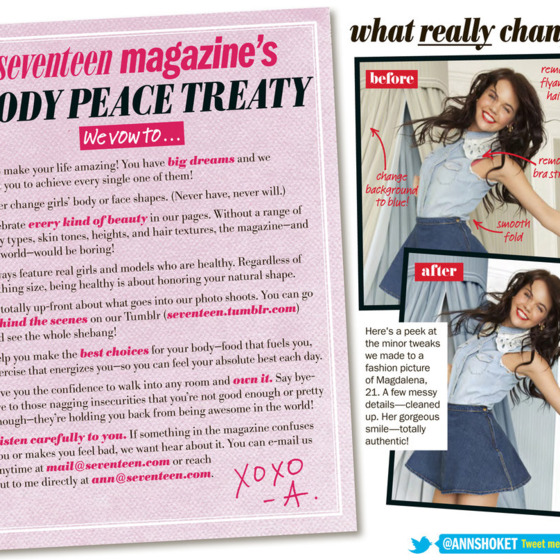 Seventeen Magazine's response is a step in the right direction. Unfortunately, we still live in a media saturated world. And that media is fixed on flooding our heads with images of perfect people representing perfect products that can make our lives perfect too. Or images of sexy people representing sexy products that can help us be sexy too. Or successful people representing successful products...you get the point. Business want your money and they are willing to do whatever it takes for you to throw it their way, even if that means making you feel broken, lacking, and insecure.


Baz Luhrman once wrote, "Do not read beauty magazines, they will only make you feel ugly." If you insist on reading them at least open those pages and see those pictures for what they are - illusions. Try hard not to compare yourself with the doctored photos. And if you're interested, check out
SPARK
and see what you can learn about joining their efforts. Supermodel Cindy Crawford once said, "Even I don't look like Cindy Crawford when I wake up in the morning." Let's remember, no one looks like the people on those glossy magazine pages so please - be kind to yourself.
Here's a great video of Julia and her friend Izzy giving a speech at a convention on this issue and their efforts. It's funny and insightful and definitely worth a watch.